Speed up communication with your accounting office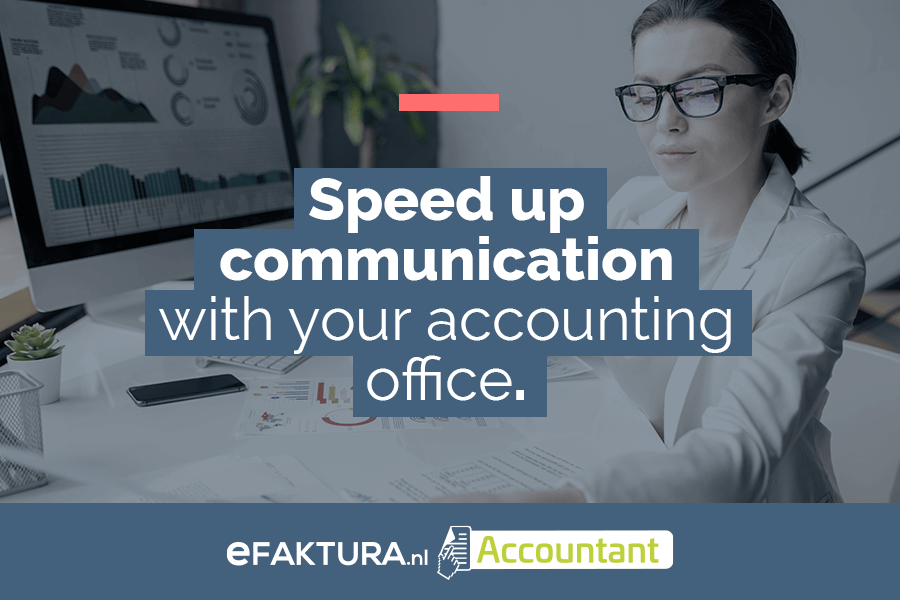 At the beginning of 2021, a new eFaktura Accountant service was launched, addressed to accounting offices.
What are the benefits of eFaktura Accountant to your company? Let us introduce you how it works.
When operating in the Netherlands, an entrepreneur is obliged to provide his accountant with documents for VAT settlement. In practice, it looks like once every three months, accountants fill in binders, envelopes and e-mails with documentation. All these invoices must be booked within a few days. Efficiently and flawlessly!
In order to meet the deadline, accountants spend night and day working – they complete, segregate and check hundreds of documents in order to correctly book them. Finally, they prepare declarations for you to send to the Belastingdienst on time. Some accounting offices ask their clients to submit paperwork monthly to avoid quarterly madness.
What if they had access to these documents on an ongoing basis?
We all know that correctly issued invoices are the basis for efficient accounting administration. Check more info about good invoice HERE. They must comply with the guidelines imposed by the Belastingdienst, as they constitute the basis for calculating BTW. These possibilities are offered by eFaktura. You send the issued invoices to the client as well as to your accountant.
The main goal of eFaktura Accountant is to simplify and automate the process of submitting your invoices to accounting. By providing your account on eFaktura you give your accountant a permanent view of your documents. You will never have to send them in an envelope or by e-mail.
eFaktura Accountant gives you direct access to accounting documents. By connecting your eFaktura account with the accounting system, a ZZP automates the administrative processes of its company. The accounting office gains a simple and useful tool for administering its clients using eFaktura.
What can an accountant do on eFaktura Accountant?
download your client's invoices at any given time
complete the data on the customer's invoice, as well as delete or correct an incorrectly issued invoice
prepare and issue a new invoice that will appear on the invoice list
You decide about the rights of your accountant in the system. The accountant can view and download invoices, or he will be given the right to issue and correct invoices – supporting and relieving you.
We care about the highest quality of services, therefore only verified accounting companies can use eFaktura Accountant.
How to add your accountant?
On your eFaktura account, go to your profile settings. At the bottom right you will find a place where you can add your accountant.

Most importantly, at the end of each quarter, your accountant will have easy access to the invoices he needs for the quarterly settlements. This significantly reduces the time to complete the documentation. You no longer have to look for lost invoices, and the accounting office will prepare all the necessary statements, which are the basis for calculating tax reliefs. Check how to improve your workflow with eFaktura HERE.
eFaktura Accountant is a step towards an even better communication and automation of your company's management processes.
What do accountants say about eFaktura?
100 accounting offices have joined eFaktura Accountant, and their numbers are constantly growing.